This page lists all new product as well as important restocks. If you don't see your game on the list, email or call us and we'll let you know the status of that game.

Friday April 13th :
Busy, busy times. Getting geared up for Little Wars, trying to finish lots of little projects and having -all- sorts of fun.

But, along with all our fun is this... new stuff!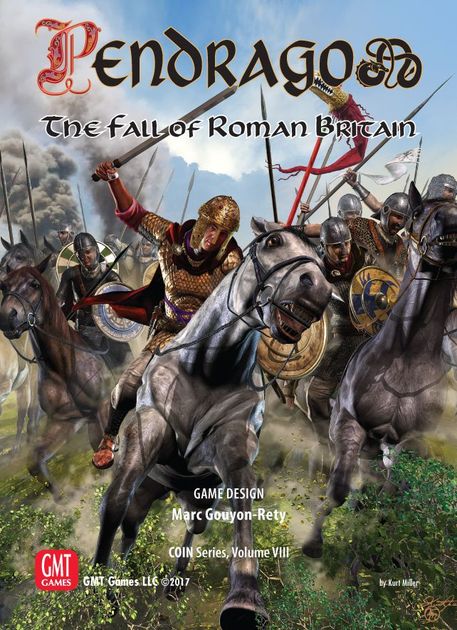 GMT Games - Pendragon : Fall of Roman Britian
Latest of the COIN games. 1 to 4 players attempt to keep the land of Britain under British control as Saxons, Picts, Vikings and Celts all eye the island nation and it's failing Roman military and infrastructure. Can you keep the invaders at bay? Medium complexity, high solitaire suitability.


Fantasy Flight Games - Game of Thrones Chapter Pack : The Faith Militant

Muse on Minis - new 2d terrain.
To go with their gaming mats they now have several 2d full color printed packs to add to your game.
Buildings and Rubble Pack
Forest and Hill Pack
Objective pack
Hedge and Wall pack

Muse on Minis DT dials - dials to show your vehicles hit point, army command points or whatever. Multiple sizes and capacities available.

Muse of Minis Measuring Set - Small, medium and large bases, measuring sticks and lots of useful templates.


GMT Games - two new MBT expansions

MBT : FRG - West German Tank to tank combat in Germany of 1987. Includes Leopard 1 and 2, Marder, Jaguar, Tornado, Luchs, Gepard and PAH-1. New maps, new scenarios and a bunch more.

MBT : BAOR -British tank to tank combat in the late 80s in Germany. Chieftain, Challenger, Warrior, Scimitar, Scorpion, Lynx, Harrier and lots more equipment is included in the expansion. New maps, scenarios and more.

Ninth Level Games - Bearicades
1-4 player game (ages 14+) Forest themed tower defense card game

Stronghold Games - Dungeon Rush
3-5 player (age 8+) real time dungeon delving card game.

Bezier games - Werebeasts
3 to 10 player (ages 14+) card game of collecting Werebeasts

IDW Games - Outpost Amazon
2-6 player (ages 12+) card game of escape, exploration and collection in the jungle

UltraPro games - Shards of Infinity
2-4 player deckbuilding game (ages 10+) of destroying opponents or reality mastering

Game Salute - Black Orchestra 2nd edition
1 to 5 player game (age 14+) of conspiracy and assassination of Hitler

USAopoly Games - Thanos Rising : Avengers Infinity War
2 to 4 player cooperative game (ages 10+) where heroes try to defeat Thanos. Stop him from gaining the Infinity Stones and ruling the universe.

New BONES minis from Reaper. Fire and Frost Giants, scenic pieces like sacrificial altars and caskets and a bunch of monsters and characters.


Friday April 6th :
So it's been another chaotic week of fun here at the store.
But we've got a few new things in for your gaming weekend fun :

Looney Labs : Anatomy Fluxx card game
Interstellar Stories - Seven Worlds : Savage Worlds Sci-fi setting & campaign books

Pinnacle Entertainment Group - The Goon : Savage Worlds book
gangland horror, zombie Noir, slapstick campaign setting

Pinnacle Entertainment - Fear Agents - a new scifi setting book and campaign based on the comic series. Pulp action, horror and military action all in one.

Monkey Fun Games - Spirit of '77 RPG
70's pop culture RPG. Kung-fu, truckers, rockers and sleuths. A gritty glam RPG.

Spirit of '77 - Wide World of '77 - Three adventures for the RPG

Fantasy Flight Games - To Fight the Black Wind
Arkham Horror novella and exclusive cards for the LCG

Ganesha Games - Four Against Darkness : Treasure Hunters of Charlemagne
new scenario pack. need both the 4AD and Four Against the Abyss rules for play

Renegade Games - CLANK! The Mummy's Curse expansion

Compass Games - Empires & Alliances World War One Across Europe
Medium complexity, High Solitaire suitability Corp level wargame

GMT Games - Metz 1870
Franco Prussian War - two battles that were pivotal to the conflict in August of 1870. Brigade level. Medium complexity and solitaire suitability.

Renegade Games - Sabordage
Be the first to arrive at Blackbeard's Treasure Hideout. Build your ship, protect it from attacks and deal with your opponents. 2 to 5 players - ages 8 and up.

Final Frontier Games - Rise to Nobility : Future of the Five Realms
1 to 6 players, ages 14 and up. A dice placement game - build up your town, gain glory, become lord of the lands and take over the Stone Council. Plays in about half an hour per player.

Cubicle Seven - Adventures in Middle Earth : Eaves of Mirkwood & Loremaster Screen
4 panel screen, 32 page adventure, pregenerated characters, optional rules & more.

Iello - Decrypto
3-8 players, ages 12 and up, plays in about 30 minutes. Transmit secret codes to your team and try to intercept your opponent's.

Wizards of the Coast - new Magic the Gathering
Masters 25 set, Challenger Decks and Elves vs Inventors Duel Decks

Knight Models - moer new 2nd edition miniatures including Ben Affleck Batman

Goodman Games - D&D Into the Borderlands B1/B2 hardback is in.

Plaid Hat Games - Crystal Clans
2 players (ages 14+) fight in the combination board/card game

Catalyst game Labs - Shadowrun : Dark Terrors Plot Sourcebook
Plot updates, hooks, critter stats, campaign infromation and an immersive style - all ready to use with Shadowrun Fifth Edition and Shadowrun Anarchy

Goodman Games - Dungeon Alphabet (harcover, leatherbound or KS edition)

Goodman Games - Dungeon Crawl Classics : The Tower of faces (level 6 adventure)

Final Frontier Games - Cavern Tavern : Secret of the Five Realms
Worker placement game where you serve drinks, work the kitchen, do chores, help customers and keep your boss happy. Additive mechanics allow bigger rewards for bigger investments but less diversification. 1 -6 players. 14+ About 30 mini/player


Friday March 30th :
Fantasy Flight Games - new LCG expansions
Arkham Horror : Dim Carcosa Mythos pack - Scenario VIII of the Path to Carcosa arc.

Game of Thrones : Sands of Dorne deluxe expansion
This expansion adds House Martell to the game. New characters, events, locations along with plots and attachments get added to the game. Also includes new cards for all other factions as well as some neutral cards in the game making this a handy add-on for all players on the Game of Thrones LCG

Steamforged Games - Dark Souls Card game
1 to 4 players take part in this cooperative deck evolution game. Explore, defeat foes and deal with the bosses. Beware, your cards are your life so as you progress you will need to husband your resources to overcome the final challenge. Everything you need to play is included in this game.

Pazio Publishing - Starfinder : Pact Worlds
This hardcover book contains a gazetteer of 14 major worlds, starships, six new playable races, player options, feats, spells and more. 200+ full color pages. Find out about the Absalon Styation, the jungles of Castrovel, the worldship Idari and ever so much more. A great resource for players & GM alike.

Strarfinder Flip Mat - Space Station
This double sided mat features a park-like commercial area on one side and a industrial area on the other. Both in full color and specially coated so you can use china markers, wet or dry erase markers - even permanent markers - and remove them with ease. Don't waste time drawing maps when you can play on a flip mat.

Pathfinder Player Companion - Merchant's Manifest
Look at the 17 key merchant hubs of Golarion, the wondrous item that passes between them, new magic items, armor, weapons and information about the markets you might find them in. New archetypes and class options add depth to the merchants, their employees and the families tied to them.

Pathfinder - Songbird, Scion, Saboteur : War for the Crown book 2
a 4th level adventure continuing the War for the Crown saga. A gazetteer of Meratt county, new rules for relics, cults of personalities, new monsters and more.

Wizkids games - Pools and Pillars - new prepainted terrain
a box set with pillars, torches, pools, braziers, statues and more. prepainted and ready to simply pull out of the box and play.

Pathfinder Flip Mat - Forest Fire
a double sided map with a forest fire raging among a remote bit of forested lad, the otgher a small settlement threaten by a wild fire. Both in full color and specially coated so you can use china markers, wet or dry erase markers - even permanent markers - and remove them with ease.

Kobold Press - Wrath of the River King
a 5th-7th level adventure for D&D 5e. Can you unravel the truth behind the disappearance of the miller's wife, deal with the danger to the town of Riversbend and manage to tell the tale?

Fantasy Flight Games - Star Wars Age of Rebellion : Fully Operational
The engineers sourcebook for the Star Wars. Adding Motivations, Duties, species and specializations for the engineers. Customize equipment, gain new weaponry, gear and vehicles, GM help for running an engineer based campaign and more.

Alderac Entertainment - Smash Up : That 70s Expansion
Disco Dancers, Kung Fu Fighters, Truckers and Vigilantes abound in this new expansion. A solid offering from the 70s... for today.

Chaosium Inc - Peterson's Abominations
Five Epic Tales of Modern Horror. A collection of one shot scenarios, each designed for multiple nights of play. Includes GM advice for getting the most out of the scenario, pre-generated investigators and scads of action and horror.

Ulisses North America - TORG
The High Lords have come to Earth to steal it's energy and use it for their own ends. But special individuals - Storm Lords have special powers to oppose them. Can you hold back the forces that have banded together to destroy your world?
a new 280+ page full color hardbound book, new dice, adventures and more. A classic RPG is back and ready for action.

Asmodee - Sherlock Holmes Consulting Detective : Carlton House & Queen's Park
10 new cases for Sherlock Holmes Consulting Detective. Includes everything you need to play inside this stand alone expansion. Map of London, case booklets, newspaper, London directory, 3 supplementary maps, rulebook and clue envelopes.


Thursday March 29th :
FFG - Legion Miniatures Game
Rebels vs Imperials in this new miniatures game from FFG. Command your troops using your chosen leader. Everything 2 players need to experience the battlefields of the Rebellion Era. Luke Skywalker, Darth Vader, Stormtroopers, Rebel Troopers, walkers, speeder bikes, terrain, tokens, rulers and more.

Expansions include AT-ST, Stormtroopers, 47-Z Imperial Speeder Bikes, Rebel Troopers, T-47 Airspeeder and Rebel AT-RT. Ruler and dice expansions are available too.

Privateer Press - new miniatures
Cryx Black Ogrun Ironmongers and Blighted Trollkin Bloodgorger Command Attachment

Cryptozoic - AMC Walking Dead : No Sanctuary Board Game
1 to 4 players take the role of iconic survivors in this cooperative boardgame, contending with Walkers, other players, deal with Rivals, maintain the stability of the group and try to stay alive. Includes 50+ plastic figures, map, cards, rules and more.

Kobold Press - Midgard Campaign Setting, DM Screen, Players Guide (Pathfinder) and Heroes Handbook (5e) are all out now!

new setting for both D&D 5e and Pathfinder. The setting book is system neutral - the GM screens and guidebook are for whichever rule set (5e or PFRPG) you want to use. Midgard is a world of dark roads and deep magic Match wits with Baba Yaga, sail to uncharted islands with Minotaur corsairs, face giants in the icy north and forge great tales of your adventure. With myriad character races, and variants of standard ones as well as upgrades for classes, spells, backgrounds and more. A new, exciting world for you to adventure in.


Wednesday March 28th :
Ganesha Games - Sellswords & Spellsingers
A new cooperative miniatures game from the makers of Song of Blades and Heroes. Players compete not against each other - but against the scenario while working together in this new minis game. 1 to 6 players create an adventuring party, cards (printed separately) deal with events, monster actions and more.

Ganesha Games - Buried Secrets : Solitaire Cleric Adventure
A new Four Against Darkness scenario designed for a Cleric. Part of the Gathering of Four campaign. A series of 5 scenarios to be played as the Heroes come together to meet the final foe and a quartet. Can you defeat the Chaos Sorcerer whose Undead are ravaging the countryside? Take the challenge and find out.



A new line of paints. Vibrant pigments, dries flat. We have a selection of the boxed sets currently, should be getting more, along with the individual bottles in the coming weeks.

Ors & Goblins, Colors of Nature (Greens set), German Vehicle Camo (WW2), SS Camo I, SS Camo II, US Army & Marine colors, Ribbons, Medals & Reward set and Fantasy & Games 'Makeup' exotic color set as well as the WW2 Tank starter set with brush, sanding stick, 2 resin 1/100 scale tanks, paints and instructions.

Relicblade miniatures game

A new fast paced, beginners skirmish miniature game. Assemble a party of adventurers to oppose the horrid pigmen in this game. Includes miniatures, rules, cards, rulers, dice and everything 2 players need to participate.




Karma Games - Clans of Caledonia
1 to 4 players (ages 12 and up) try to help Scotland of the 1800s transition from an agricultural economy to an industrial one. Create trade and exports, import wisely and be the one with the most wealth and fame. Plays in about half an hour per player.

MGB LLC - Dice Throne
Choose a hero to command, use dice to activate abilities, upgrade those abilities, play cards to alter game play and defeat your opponents to take the throne. Play 1v1, 2v2, 3v3 or free for all. Ages 8 and up. 2 to 6 players. About 30 minutes to play.

Z-Man Games - Carcassonne : The Tower
This new expansion adds a physical tower to draw tiles from (holding up to 180) and the ability to build and capture towers in game to protect and capture meeples. 18 tower tiles, 30 tower floors, 1 cardboard tower.

IDW Games - Missile Command
3 to 6 players (age 14 and up) create (and break) alliances, fire missiles and try to be the last one standing in this game of diplomacy, strategic planning and missile fire. Plays in about 45 minutes. Includes city tiles, player screens, missile, nukes, interceptor tokens and more.

Stronghold Games - Noria
2 to 4 players try to create trading empires through use of flying islands, ships, factories and special projects. Includes a unique scoring system which rewards good play, put the Action Wheel to good use and try to be the wealthiest empire.

Looney Labs - get the MacGuffin!
Make use of your limited hand to get a hold of the MacGuffin. Will you manage to keep hold of it until the last card hits the table? Designed for 2 to 11 players, ages 8 and up. Plays in 5 to 10 minutes.

Twilight Creations - Zombies!!! Bag o' Hearts and Bag o' Bullets
75 Hearts or 100 bullets to add a third dimension to your game.

Greenbrier Games - Burger Up
Build burgers of Epic proportions in this card game of customer service. Fill orders, earn money, upgrade your joint and haul in the money. Ages 14 and up. Plays in about 45 minutes. 2 to 4 players.

Quick, Simple, Fun games - Celestia
2 to 6 players explore Celestia, revealing dangers as you explore cities. Decide where you disembark to hoard your treasure or wait and hope you get more into your sack before the airship crashes. This push-your-luck game plays in about 30 minutes. Designed for ages 8 and up.


Tuesday March 20th :
Some new things, some old things - all sorts of stuff here today.
The auction Chaos has settled down and the lull before Adepticon has about ended.

Kobold Press - Eldritch Lairs (Pathfinder RPG)
A new Pathfinder compatible supplement providing eight adventu8res for characters level 4 to 8. Set in magic blasted wastes, dungeons and deserts they can be dropped into your own game or used as single shot adventures. Ready to go adventures full of magic and horror for any game.

Paladium Books - Rifts Wolrd Book 36 - Sovietski
Having to face down the Warlords of Russia, Brodkil Invasion, Werewolves, Gargoykles and Minions, the Sovietski are a people with their backs up against the wall. New OCCs, cyborgs, bunker creation tables, D-Bees, a gazetteer of the area, background, source material and more.

R&D Games - Keyper
2 to 4 players try to create the best economy they can for their little bit of the countryside. The game is played over four seasons and unlike other games your 'keyples' can end up working alone, with others or cooperatively with other players keyples. New game concepts, lots of strategies, action and player tactics will make this a game to keep around. Plays in 1 to 2 hours (depending on players). Ages 14 and up.

Studio 2 - Awaken RPG
A Dark fantasy RPG where the players are in a world slowly sliding into darkness. Political fights abound, an underground race has begun it's war against humankind and the protectors of men and fading away or turning against those they are to protect. Take the role of a chosen protector and try to keep the darkness at bay. Beware it's corrupting influence and remain loyal to humankind. A full RPG system with it's own intuitive and light rules. Includes pregenerated characters and a beginning story but also includes full rules to produce your own heroes.


Thursday, March 8th :
The auction is over and we are getting back to normal here.
Subsequently, we got some new stuff!

Floodgate Games - Dome Crushers (2 player card game)

Steve Jackson Games
Munchkin Clowns 15 card Munchkin expansion
Munchkin Magical Mess (Munchkin Moops game for 3-6 players)

Reaper Miniatures March Dungeon Dwellers figures - Goblins!

Third Eye Games - PIP System Core book : Multi-genre RPG system core book

Goodman Games -
Tales from the Magicians Skull : Swords & Sorcery fiction softbound
Dungeon Crawl Classics limited edition starter box

Arc Dream Publishing - Delta Green : Observer Effect (Delta Green adventure)

Z-Man games - Blueprints (2-4 player card game)

Studio 2 Games - Awaken : Dark Fantasy RPG based on Slavic & Mediterranean myth

Druid City - Grimm Forest : 2-4 player fairy tale boardgame

Gale Force Nine - Brigands and Browncoats : 1-5 player cooperative Firefly boardgame

Quixotic Games - Dungeon Alliance 1-4 player fantasy deck builder


Thursday, February 22nd :
Evil Hat Games - Greedy Dragons
2 to 6 players are dragons that are trying to divvy up a hoard. Using simple, but strategic card stacking you build lairs, collect gems and try to get the most. Play one on one or team up to maximize your loot. Add a magic ring to the mix and the stakes get higher... Ages 8 and up. Plays in about 30 minutes.

Osprey Games - Samurai Gardener
2 to 5 players compete to create a spectacular garden to awe others and bring honor to your lord. Ages 10 and up. Plays in about 20 minutes.

Upper Deck - Legendary Champions
A new generation of heroes are introduced in this expansion. Gwenpool, VivVision, Ms. Marvel are among the new heroes you may encounter. Build up your deck with the likes of Nova or Totally Awesome Hulk and battle Fin-Fang-Foom, the Wrecking Crew and others. 100 cards, 5 playable heroes, 2 masterminds, 2 villain groups, 4 all new schemes and rules. 1 to 5 players, ages 14 and up.

Room and Board Games - Ursa Miner
2 to 4 players (ages 8 and up) compete in the annual harvest at Mount Honeycomb. Uncover valuable riches, grow our team, find royal jelly and avoid the tricks of your opponents. Plays in about half an hour.

Z-Man Games - My First Stone Age
2 to 4 players build a primitive village in the Stone Age using their memory skills to track the location of goods in the race to establish your holding. Ages 4 and up. Plays in about 15 minutes.

Renegade Games - Dragon's Hoard
Roam the lands searching for treasure. Collect sheep. Beware angry mobs and wizards who will stand in your way. Defend yourself. Get the best treasures. win the game. 2 to 4 players, ages 9 and up. Plays in under an hour.

Plastic Soldier Company - new models
M60A3 tanks - 5 tanks in 1/100th (15mm) scale

Leopard I Tanks - 5 tanks that can be built as Leopard 1A3, 1A4 or Canadian C1 models, including tank commanders.

Cold War Soviet Infantry - 141 plastic miniatures.Includes RPGs, snipers, radio operators, 3 x SA-7, 3 x AT-4, 3 x AT-3 and 3 x AGS-17 in the mix.

Battlefront Miniatures - new 'Nam releases
'Nam rule book - hardbound 230 full color book with all the rules you need to play, background, painting guides, missions and forces are covered too.

'Nam Unit Cards - PAVN, ANZAC, ARVN and US unit card decks are available giving you information at your fingertips when playing your forces.

Fantasy Flight Games - Star Wars RPG : Dawn of the Rebellion
The Galactic Empire is at the height of it's power and it's action are driving more and more into actively opposing it. This setting takes place around the time of Rogue One and gives you more species to play, universal specializations, gazetteers for places like Jedha, Atollon and the Death Star, prominent characters like Grand Admiral Thrawn, Lando Calrissian and Princess Leia, new equipment, weapons, gear, droids and vehicles, GM guidance for running campaigns from Rebels creator Dave Filoni and a whole bunch more. 140+ pages of information.

Mighty Boards - Vengeance (The axe forgets. The Tree remembers)
1 to 4 players have all been wronged. Left for dead you strive to get revenge. Hone your fighting skills, track down the ones who did this to you and deal with them. Righteously. But it's a race. Your not the only one they've wronged. So get there before the others to let your fury free. Ages 14 and up. Takes about half an hour game time per player. Miniatures, tokens, dice, board, rules, etc. Includes 5 different heroes and solo missions for each when you just want to do it all yourself...


Wednesday, February 21st :
Nord Games - Game Mastery Toolbox : Wandering Monster Card decks
Each of these 52 card decks (Waterways, Underground, Dungeon and Wilderlands) give a general geographical type the encounter can be found in, a bit of full color art on one card side and a chart of encounters on the other as well as an interesting bit of background quote.
Decks are available for both Pathfinder and D&D 5e

Wildfire games - Are You A Cultist?
A social deduction game. There is a Intrigue Edition (hosts 5-8 players) and a Party edition (hosts 8 to 24). Set in the roaring 20s you are at a mansion trying to deal with Cultists who are trying to manifest an Old One to bring about Apocalypse. Can you follow the clues, ferret out the Cultists and save the world. As play progresses Investigators try to uncover Cultists and the Cultists try to remain hidden. Each score points and the side with the highest total at games end wins. Comes with rules, cards and hours of fun.

Fantasy Flight Games - Star Wars Destiny Dice Binder
This binder holds 44 dice and 44 sleeved card in plastic niches. Exterior artwork features Darth Vader, Boba Fett or Princess Leia.

Victory Point Games - Darkest Night (Second Edition)
1 to 5 players attempt to oppose a Necromancer in this cooperative strategy game. Travel the kingdom, aid the people and locate the holy relics while evading the Necromancer. Once you are set, get to the final showdown and destroy him. Play as 29 different characters, each with unique play styles. This new version comes with full color standees, cards, rules, compendium, dice, counters and more. For ages 14 and up. Plays in about 2 to 3 hours.

Victory point Games - Darkest night Miniatures Set
This box includes 30 highly detailed plastic miniatures - 1 each for the necromancer and each character one could play. From the Alchemist to Wizard, Valkyrie to Bard - 29 different characters.

Gloomhaven - second edition
A legacy game where players will take on the role of a wandering adventurer with their own special set of skills and their own reasons for traveling to this dark corner of the world. Players must work together out of necessity to clear out menacing dungeons and forgotten ruins. A huge box, long game play and hours upon hours of adventure and fun.

Grey Fox Games - Deception : Murder in Hong Kong
4 to 12 players take different roles in this game of deception and deduction. One player is the murder who chooses weapon and evidence that is left behind. Another is a Scientist who can analyze the scene. Others are investigators trying to solve the murder and catch the criminal. Ages 14 and up, plays within half an hour.

Grey Fox games - Deception : Undercover Allies
up to 14 players try to deal with a murder spree which has police wondering if some of the very investigators who are trying to solve the murders may have a hand in them. Meanwhile, the murder is recruiting extra help to attempt o keep the police at bay. Includes new roles, new clues, means and badges as well as an event. Designed for 4 to 14 players, games lasting about half an hour.

Cryptozoic Games - The Arrival
Become a tribe leader and take control of the island of Erin while dealing with the demonic Fomori. Balance expansion and careful exploration in order to succeed in keeping the Fomori at bay. But beware the rise of other tribes and their expansion. Gain resources, expand, conquer and rule over erin. 2 to 4 players, aged 12 and up. plays in under 2 hours.

Fantasy Flight Games - Eldritch Horror : Masks of Nyarlathotep
Can you stop cults around the world from uniting and opening a portal to the Dark Ones? Up to 7 investigators move forward in their own personal stories, each trying to challenge the Ancient Ones and keep the cults from prevailing. Includes new rules, investigators, assets and more.


Tuesday, February 20th :
New Osprey Publishing books :
Combat #30 - Arctic Circle 1942-44 : German Gebirsjager vs Soviet Sailor
Air Campaign #4 - Malta 1940-42 : Axis battle for Mediterranean supremacy
Air Campaign #3 - Rolling Thunder 1965-68 : Johnson's air war over Vietnam
Campaign #318 - Kuban 1943 : Wehrmacht's last stand in the Caucasus
Bolt Action - Market Garden Campaign book

Gripping Beast (Studio Tomahawk) - SAGA II
the new SAGA rules are here. This skirmish game features simple and innovative rules with the Universe you choose to play in providing all the advanced rules. Choose your Warlord and get your band together. Fully illustrated and example laden. These are the core rules, the upcoming Universe books will give you the background, warband rules and scenarios to upgrade your Saga experience.

Mantic Games - Kings of War : The Battle of the Glades 2 player battle set
Featuring 82 plastic models and rules this set is deigned to give you a pair of armies to learn to play kings of War with and expand upon for later play.

Pazio Publishing - new Pathfinder items
Pathfinder Flipmat - Dungeon Multi-pack
Two flip mats, each double sided and in full color. four labyrinths which can interconnect. Rooms, corridors, caves and more. Can be used (and reused) with wet erase, dry erase, china marker and more.

Modiphius Games - Conan the Barbarian
Asgard, Vanahiem, Hyperborea and Cimmeria - all explored and explained. The savage North - all ready to go for the Conan RPG. Complete with new archetypes, talents, backgrounds to help create your barbarian character. A gazetteer covers the region including the clans that war across the frozen wastes. A raid system helps capture the flavor of the lands and guides to help running barbaric themed campaigns is included. Stunning art, breathtaking maps and more abound.

Days of Wonder - Small World Sky Islands
Expanding on Small Worlds there are now Sky Islands (including a new map board), allowing 3 to 6 players to conquer the worlds above. 7 new races are featured along 7 new powers. Escargots, Scarecrows, Khans, Scavengers, Storm Giants, Drakons and Wendigos - oh my!

Wizkids - Heroclix - X-Men : Xavier's School
featuring characters from Xavier's School, X-Factor, Headmasters and Age of Apocalypse. 72 different figures. Each booster has 5 figures and cards.

X-Men : Fast Forces
6 figures (Beast, Cyclops, Jean Grey, Skids, Faust and Iceman) and cards packaged together to get you a ready to play force in one blister box.

X-Men Heroclix dice and token pack
2 Heroclix dice and 6 action tokens with an X-Man theme

Osprey games - Reiner Knizia's Sakura
A game of cherry blossoms, painting, the Emperor and prestige.


Thursday, February 7th :
Catalyst Game Labs - Dragonfire Adventure Pack : Chaos in the Trollclaws
Gnolls, orcs and goblins clash endangering the countryside. Face new encounters, gain new magic items and visit new market and advance to the second chapter of Dragonfire Adventures.

Fantasy Flight Games - Lord of the Rings Adventure Pack : The Crossings of Poros
Latest in the Sands of Harad cycle - card 135-163.

Cheapass Games - Button Men
48 Characters, 30 dice and lots of action. Complete game rules, multiplayer rules, campaign rules and more. Each player selects a character card, and uses the dice described on the card. Players start by rolling all of their dice, and then take turns capturing each other's dice.
You score points based on the size of the dice you capture (and keep), and the player with the most points wins. With endless variations of character recipes, unusual die types, and some simple new 'campaign' rules, Button Men is a game you can enjoy again and again. Ages 12 and up. 2 or more players. Plays in 10 minutes.

Fantasy Flight Games - Elder Sign :Omens of the Pharaoh
From the bustling markets of Cario to the royal necropolis of Dashur - Six new investigators confront hidden chambers, new monsters, allies and mythos. Can you push back the darkness and keep the horrors at bay?


Wednesday, February 7th :
Reaper Miniatures : February Dungeon Dweller : Baran Blacktree - Human Fighter

Reaper Miniatures - All sorts of new Bones minis
Dagon (huge figure), Dark Young (huge figure)
Barbarian Mouslings (2 figures), Iron Golem
Frost Giant Bodyguard, Frost Giant Warrior
Great Obelisk of C'thulhu, C'thuhlu Shrine
Gug, Eldritch Horror, Mi-Go
Deep One Warrior, Deep One Priest & Servitor
Grave Wailer, Graveyard Golem
Dread Wolves, Dust King and Crypt
Female Wraith, Grave Minions (3 figures)
Gravestone of Sorrow, Gravestone of Protection
Carrion Worm, Large Sarcophagus
Xiloxoch, Naga - Merrow
Bandit Knocker, Bandit Leader
Bandit Enforcer, Bandit Bully
Kobolds (6 figures), Flesh Golem
Cultist, Cultist Priests

Frog God Games - Fifth Edition Foes : Softcover Edition
250+ pages of new creatures for 5e D&D. From Flying Apes to Zombie Ravens. Some are monsters that have appeared in first edition D&D, some are new. All of them have illustrations, statistics, an blurb on ecology, where it appeared originally (if it is not original to this book) and more.

Z-Man Games - Stone Age 2018 edition
2 to 4 players act as humanities ancestors, gather resources, improve tools, advance your tribes knowledge, feed your people and keep them safe. Carve your legacy in stone! For ages 14 and up. Takes about 60 to 90 minutes to play this worker placement game.

One Small Step LLC - Counterfact Magazine - Issue #3
Polemology, Wargames, Analysis, Commentary. History of the Arab / Israeli Wars, Military Capabilities in the Middle East, Millennium Wars Advanced : Lebanon Scenarios (includes full color map, counter sheet & rules),States in Conflict, Firepower & more.


Thursday, February 1st :
Fantasy Flight Games - new releases

Star Wars Armada - MC75 Cruiser : Profundity
includes the ship, dials, ship and upgrade cards and tokens

Star Wars Armada - Imperial Star Destroyer : Chimaera
Admiral Thrawns Flagship, 2 Mandaloran Gauntlets, dials, cards, tokens and more.

Privateer Press - new minis
Kwaak Slickspine & Gub - Croak Sorcerers (Hordes minions blister)
Barnabas, Lord of Blood (Hordes minion warlock)

Horizon Games - Traveller Customizable Card Game
It's out! 2 player starter, ship decks and more. See below...

2 Player Starter
Designed to allow 2 to 4 players the chance to experience the fun of Marc Miller's Traveller Universe. Be the first captain to pay off your ship, fend off bankruptcy, deal with pirates and succeed in a universe that is cruel and uncaring. There are also three solo play scenarios to challenge you when opponents are not about. Comes with Type S Scout and Beowulf Free Trader ship decks and all the cards you need to play. For a limited time includes the special kickstarter cards. Ages 12 and up. Takes about half an hour, fourty five minutes to play.

Empress Marava Far Trader Ship Deck
The Empress Marava is the ubiquitous Far trader, seen all around the Imperium. Includes the Far Trader ship card, 20 adventure cards and 60 Captain's cards. Everything you need to play with a card guide and quick play guide included.

Subsidized Merchant Ship Deck
Local governments will help fund a ship in return for regular service and established routes. Choose a good route, make money and beware of those who know your coming. Includes the Subsidized Merchant card, 20 Adventure Cards, 60 Captain's Cards, quick play guide and card guide.

Trouble on the Mains -
first expansion pack for the TCCG adding 60 cards that focus on piracy and combat.

Aliens of the Imperium -
60 card expansion pack focusing on the myriad alien races of the Third Imperium. With over 10,000 worlds you never know what customs, cultures or aliens you may meet.

The Creativity Hub - Blank : make your own Game.
A unique game where the goal of the game is to win... so you can change the rules. Deal 3 rule cards to begin. Match colors and numbers... but follow the rules. Play all your cards to win the game. Now the winner gets to write a new rule card that gets added to the game. Simple, fun and creative. 2 to 6 players ages 6 and up.

Wizkids Games Star Trek Attack Wing Federation vs Klingons Starter Set
Includes 2 Federation and 2 Klingon ships, rules, dice, tokens and cards. Expansion rules give you options to add more and different ships, card packs and more to add to your fleet. Ages 14 and up.

Cool Mini or Not - 13 Clues
2 to 6 players (ages 8 and up) sees the clues (person, location and weapon) for other players, but not their own. Investigate your case, collect clues, solve your case and succeed before your opponents. Includes new, easier to use components, updated rules and a new game variant. Plays in about half an hour.